Fundraising Projects
Fundraising Projects – Spring 2018
As a community chorus, we strive to always be accessible, keeping costs  to our members and our audiences as low as we can.
We rely on concert ticket sales, fundraising events and donations  from our community to cover operating costs.
You can help by attending our concerts, donating to the Chorale and supporting our fundraising events. 501(c)3 non-profit organization.
We have several exciting opportunities coming up this Year!
*********************************************************************************
If you would like to support the Chorale here online, you have several opportunities! The following books, written by members of the Blue Ridge Chorale, are available for purchase both online and at our concerts. To purchase online, please email BookSale@brcsings.com. Price $25.00 each –   All books sold at concerts will be signed by the author!
"We Escaped: A Family's Flight from Holland during World War Two"
Author Dr. Alexander H. ter Weele – a longtime member of the Blue Ridge Chorale
This is a true narrative of a family that is part of the rapidly fading "Greatest Generation" and a reminder of the history and horror of WWII. The book is a selling well and Alex is regularly invited to speak of the saga of his family's flight to safety.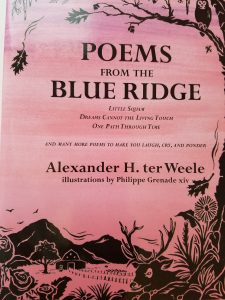 "Poems from the Blue Ridge"

Author Dr. Alexander H. ter Weele – a longtime member of the Blue Ridge Chorale
"Poems from the Blue Ridge" can be read by the lighthearted side of your brain, or explored by the profound thinker in your psyche. The illustrations can be equally amusing or upsetting, depending on the reader's interpretation. There are poems for the child in your heart and for the scholar in your intellect. A small book stuffed with joy and packed with meaning.
"Poems from the Blue Ridge" are a work of art. Indeed, two works of art in a single volume. On the one hand, a compendium of poems–inspiring poems, complex poems, playful poems–and on the other hand, a collection of sketches–inspiring sketches, complex sketches, playful sketches. The reader will return to these pages time and again to contemplate the art of
the written word and to appreciate the art of illustration.
Price $25.00 each –   Email: BookSale@brcsings.com to purchase online