Have you have been thinking about getting ready for the Shamrock Shuffle 5k, but not sure where to start with your preparation? Training for your first 5k can be an intimidating idea, but the Shamrock Shuffle is a great event for first-timers. Not only is it a friendly, fun, and non-competitive event, but race director, Katie Hutchins, has prepared a beginner-friendly training plan to help you get ready for race day! Click here to download a printable copy of this plan to hang on your wall and start your race-day countdown.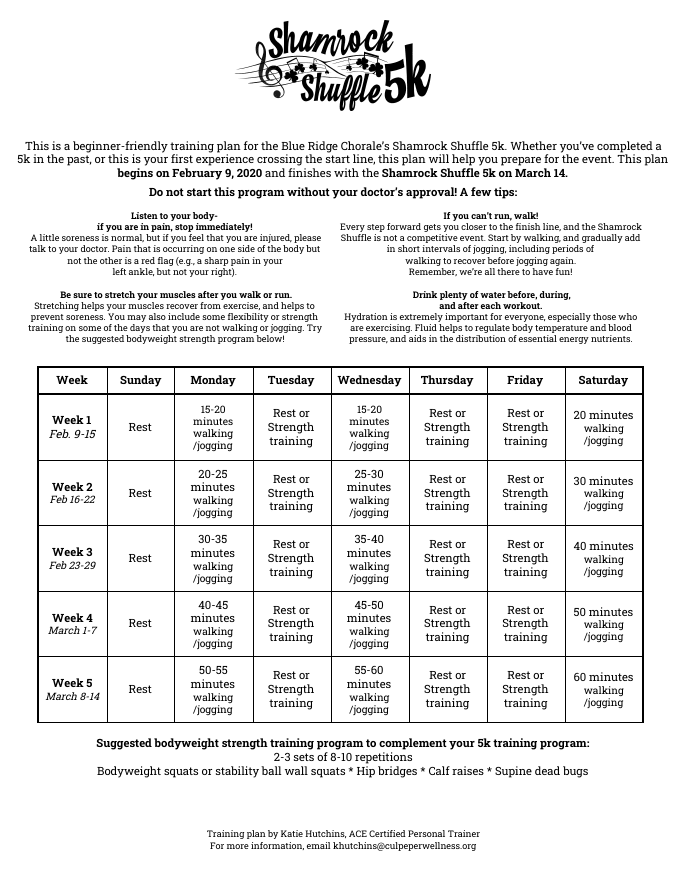 Katie is an American Council on Exercise (ACE) Certified Personal Trainer at Powell Wellness Center here in Culpeper, and is happy to answer any questions you might have about getting ready for the Shamrock Shuffle, especially as she celebrates her personal 10 year anniversary of running a 5k for the first time! As a former couch potato, her firm belief is that if she can do it, anybody can do it!
Also, you can tune in to WPRZ 88.1 FM tomorrow, February 1, at 9:00 AM to hear Katie and Blue Ridge Chorale president, Patti Christie, on Inside Conversations with Jube Henshaw, with a chat about the Shamrock Shuffle and the Blue Ridge Chorale. The program will air again Sunday evening, February 2, at 8:30 PM.