Shamrock Shuffle 5K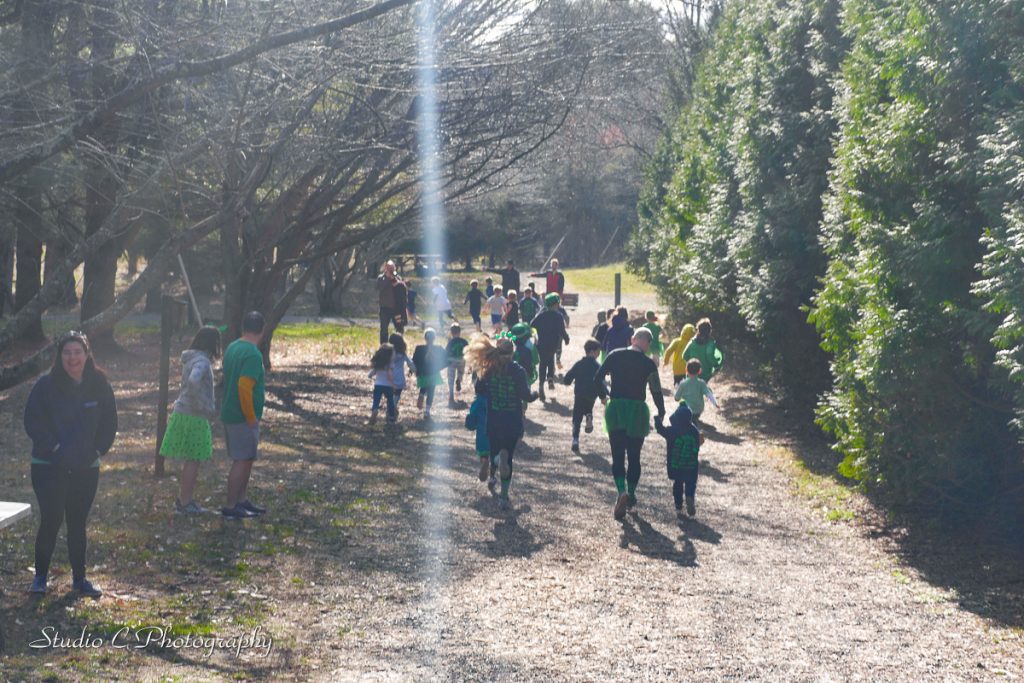 The second annual Shamrock Shuffle 5k 2019 was a roaring success this Saint Patrick's Day weekend at Verdun Adventure Bound. A large crowd of runners and walkers showed up in their fanciest green finery to celebrate fitness, nature, and music. Members of the Chorale, along with their spirited and supportive friends and family, turned out in their finest emerald garb as well, to help the runners and walkers have a successful race day. Participants were greeted by smiling faces of volunteers as they checked in at the registration table, made their way along the course, crossed the finish line, and came to pick up a snack at the kitchen afterwards. From the littlest leprechauns in the kids 1K to the wisest of leprechauns in the 5K, every finisher's arrival at the finish line was celebrated with whistles, clapping, and encouraging cheers.
By the numbers, this year's Shamrock Shuffle was an even bigger success than last year's. 25 finishers crossed the line last March; this year, we greeted 75 proud finishers at the line. 25 little leprechauns claimed their golden medals at the end of the "rainbow" 1K. Participants in the 5k ranged in age from 9 to 86, and came from as far away as Virginia Beach, New Jersey, and even Japan!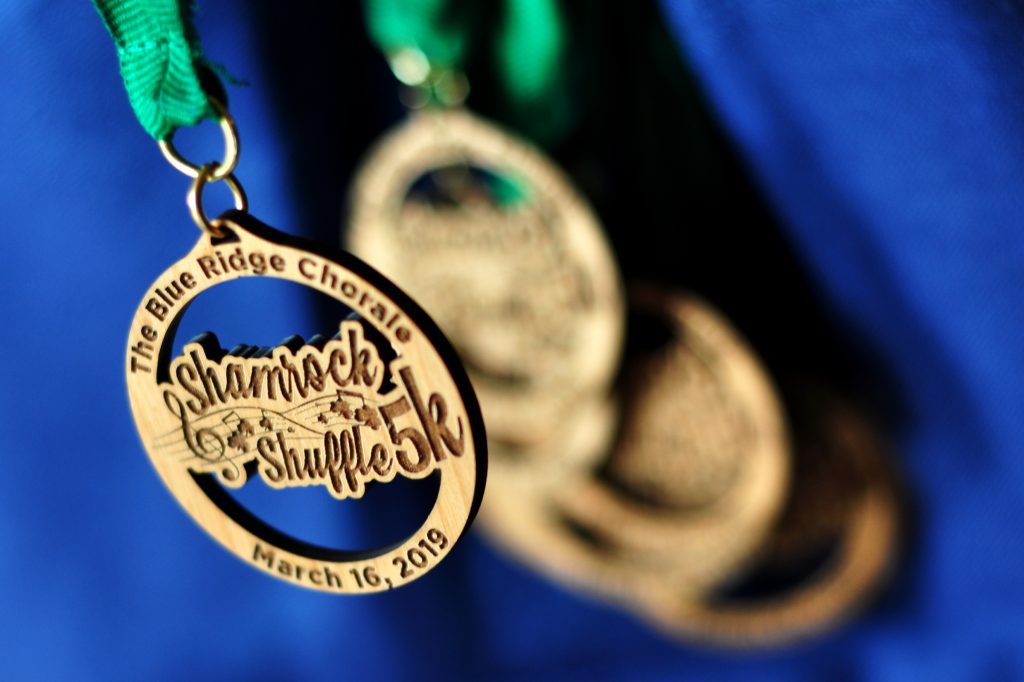 Congratulations to all of the age group award winners! They received custom 3D printed keychain medals on green lanyards, to remind them of their success throughout the year.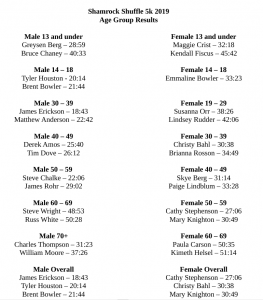 Click below for complete race results:
Tim and Johncie Carlson of Studio C Photography captured lots of exciting moments of the event, and are offering digital images for participants to use online; finish line photos make great social media profile pictures! High quality prints are also available to purchase. Click here to access a gallery of event photos from Studio C Photography.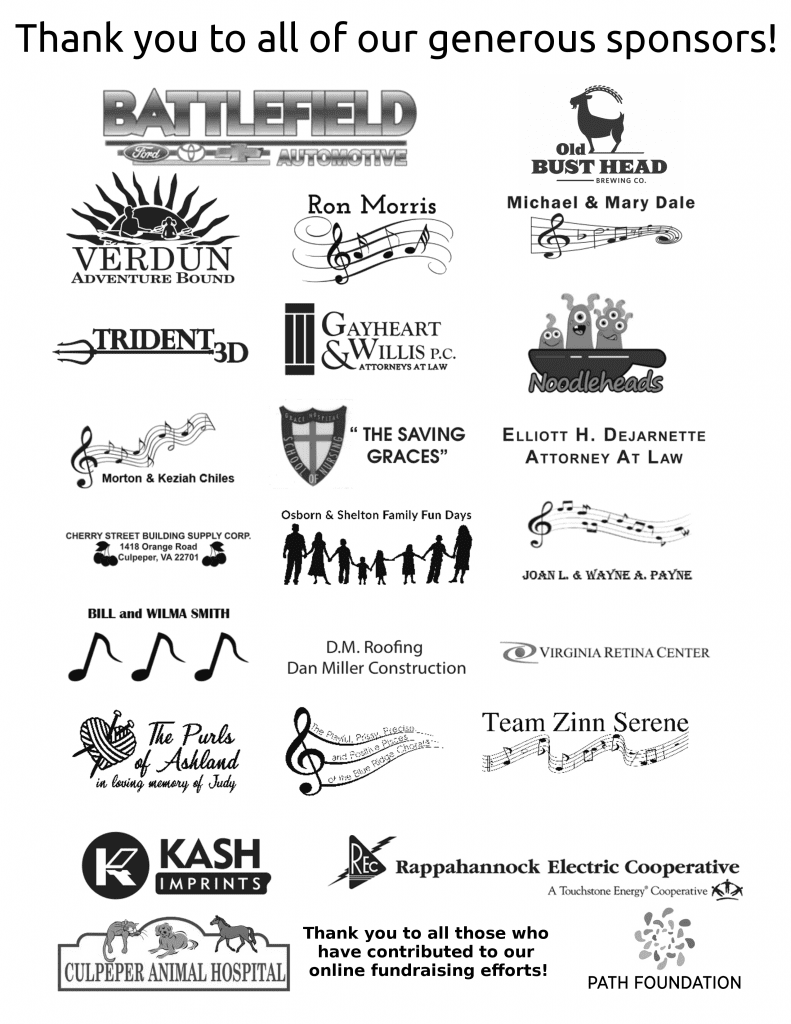 Thank you to all of the sponsors, volunteers, runners, walkers, and families that made this event possible! We are excited to continue to improve, and offer an even more fun and exciting race next year!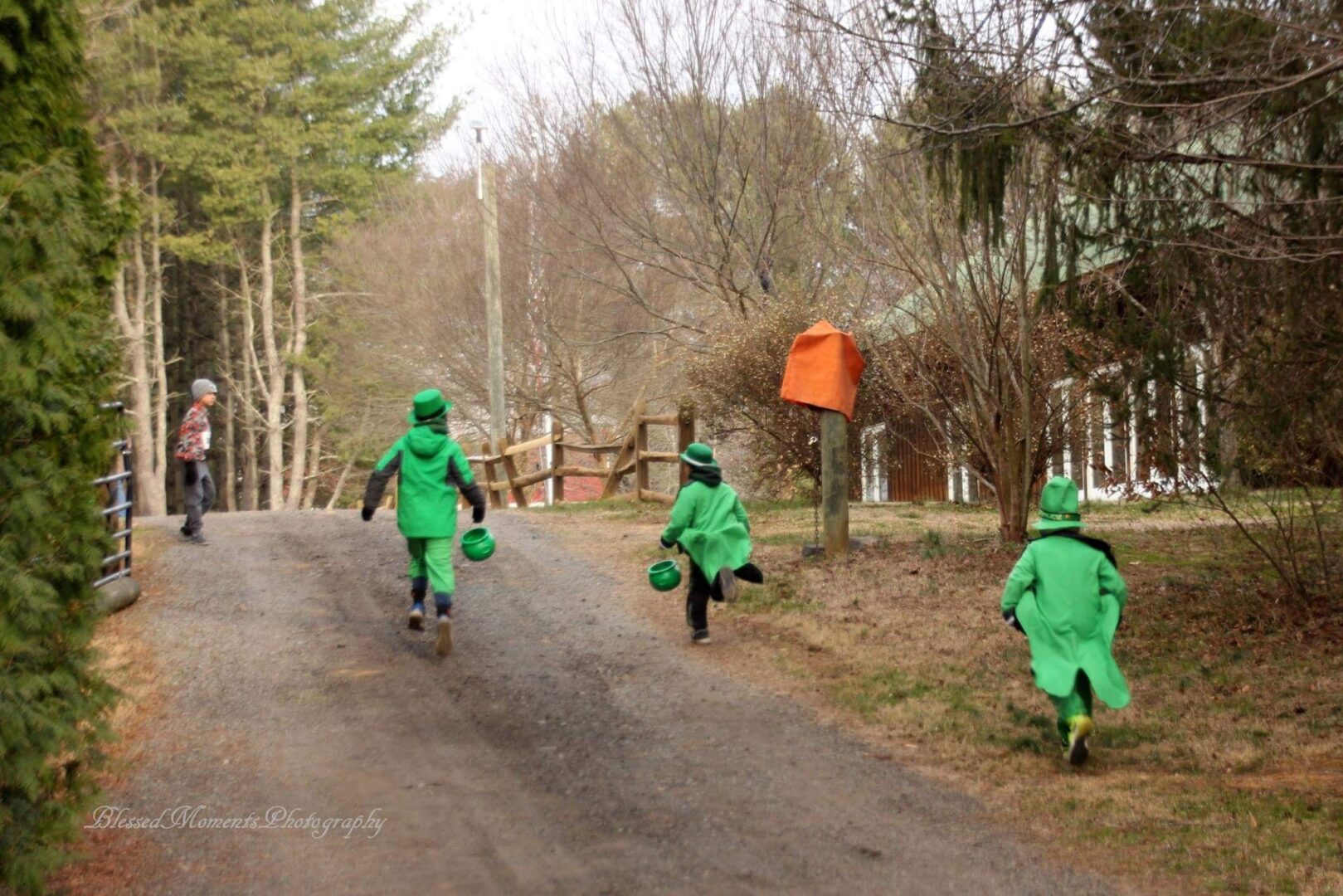 Join us for the 2nd Annual

Saturday March 16, 2019
Registration begins at 8:00am — Race begins at 9:30am
Join the Blue Ridge Chorale of Culpeper for the second annual Shamrock Shuffle 5K Fun Run/Walk! This event features a scenic 3.1 mile cross country course, as well as a beautiful 1K course for the kids to run. Medals for all finishers, door prize drawings, and cash prizes for the fastest runners! Sign up early for the best deal on your registration! Click here to sign up now!

New in 2019: Awards for top two finishers in each age group:
Female  13 and under, 14-18, 19-29, 30-39, 40-49, 50-59, 60-69, 70+
Male  13 and under, 14-18, 19-29, 30-39, 40-49, 50-59, 60-69, 70+
Event Location: Verdun Adventure Bound 17044 Adventure Bound Trail Rixeyville, VA 22737. (Gates will be closed after event begins and will re-open at 10:30 am)
Proceeds Benefit: The Blue Ridge Chorale of Culpeper, Inc. PO Box 1871 Culpeper, VA 22701 (501(c)3 non-profit organization community choir)
Registration On-Line or Mail-In Check to address above (registrations received before Feb.15th guarantee of race bag and t-shirt) All participants must sign a Release and Wavier of Liability, Assumption of Risk and Indemnity Agreement (form below).
Day of Event Registration – Cash Only (without guarantee of race bag and t-shirt) Registrations begin at 8:00am. Sorry NO Dogs Allowed at the event.
Run or walk through the wooded cross country trails to the finish line. St. Patrick's Day Costume contest, prizes awarded. Kids 1K Run/Walk, face painting and after race activities. Strollers are welcome but will start behind the runners. Sorry NO Dogs allowed at the event. Medals and Ribbons for all finishers. Refreshments at finish line pavilion.
***************************************************************************************************
Sponsorship and Donation Links are available through our RunSignup Page, here!
First Annual
Shamrock Shuffle 5K Fun Run/Walk
March 17, 2018
Results