Winter Shows
The Blue Ridge Chorale, a 65 voice SATB choir in Central Virginia, presents a collection of Songs for the Season. Directed by C. Alexander Smith, and accompanied by Brittany Bache. The concerts are our musical gift to the community, and admission is free. Donations will be gratefully accepted.
Saturday, December 8, 7:00 PM – Open Door Baptist Church, 754 Germanna Highway  OR  Sunday, December 9, 3:00 PM – Culpeper Baptist Church, 318 S. West Street
Both concerts are to be held in Culpeper, VA.  A beautiful town with main street charm, fine eateries and shopping.
"We Wait for Thee" and "Amen! Tell It on the Mountain!" are two  selections from this concert season.  Please join us for our SONGS for the SEASON concert.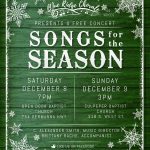 Congratulations on a terrific concert to all the singers, Director Bob Burnett,
Accompanist Brittany Bache, Director Cathy ter Weele, Percussionist Jeff Wolf,
frenetic re-gifter (and Chorale President) Patti Christie, soloists (Mary Schreiner,
Lisa Zinn, Wanda Osborn, Wayne Payne, Charity Sillero, Jerry Baker),
narrators (Cary Oien, Wayne Payne, Martha Smith, Alex ter Weele, Jerry Baker, Cathy ter Weele)
and to everyone whose efforts brought about this concert. It was wonderful!
Both the Prince Michel and Verdun Adventure Bound venues were beautiful and our concerts were well received by our audiences.
Selections from our 2016 Winter Concert, Sing Gloria, Sing
Somebody Build A Manager: Arranged by Joel Ramsey
Click Link to listen
Wassail Song: Arranged by Vaughan Williams
Click Link to listen
Jingle Bells Rondo: Arranged by James Pierpont / W A Mozart
Click Link to listen
I Wish You Christmas: Arranged by John Rutter
Click Link to listen
The Christmas Concerts are coming in early December, under the Direction of Robert Burnett.
Purchase tickets in advance online (click to purchase tickets) Blue Ridge Chorale Tickets
or for additional information Email: info@brcsings.com